Designed by:

David W. Goerne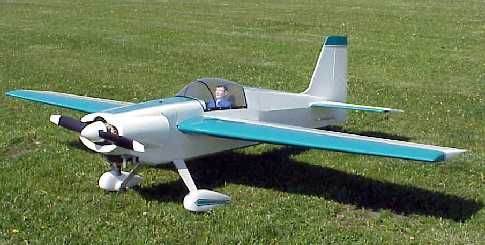 86.5" Wingspan , 67.5" Length
50cc-62cc engine
CNC Router cut parts.
Canopy, Cowl, Wheel Pants and Landing Gear are available.
If you want to find your own source, here is what the plans call for:
Landing Gear - #MLPG234 previously from Ace R/C. Download Landing Gear dimensions
Wheel pants - B&B 86" Laser (30% laser) #122 from Fiberglass Specialties
Canopy - 90" WS Super Chipmunk - Aerotech Models
Cowl - 30% Laser will work. Fiberglass Specialties has one. If you look closely at the pictures, the difference between it and the Laser cowl is the side cheeks. On the Laser, the cheeks close to the back of the cowl. On the Akro, they are straight back, and are open at the back of the cowl.
2 sheets hand drawn plans by Mr. Goerne included with Fuse Kit. The plans show the built up wing, stab, and fin. 1 sheet 36 x 70 , 1 sheet 36 x 90. Plans are designed for the scratch builder, so parts are on the plans.
Download Mr. Goerne's original building
documentation here.