Full length spars are easy to install and they will greatly increase the strength of your wing core. The following procedure is a successful way for the builder to install perfect wing spars.

Select a flat piece of hard balsa at least 7" long and the same width as the spar to be used. Bevel the edges 15 degrees as shown. Now cut a strip of 120 grit sandpaper and glue it to the edge of the wood. Mark a line on the side of your slotting tool the same depth as the spar your slotting tool is now ready to use.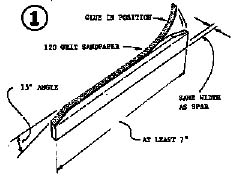 Lay wing core on a flat table and measure off where spar slot is to be made.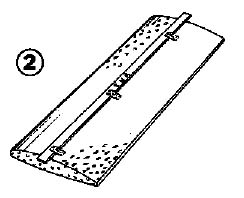 Press down firmly on ruler with one hand. Hold slotting tool firmly against ruler and gently run back and forth the entire length of core until proper depth is obtained.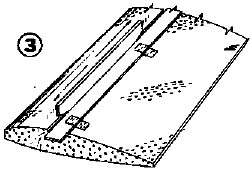 Place the wing in the foam saddle it was cut from. While you are still working on a flat surface lay a bead of white glue in the spar slot and press spar down in position.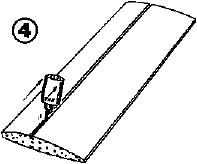 Place the top foam saddle in place on top of the wing, protected from glue with wax paper. A flat board can be placed on top of the wing saddle and weighed down to make sure the spar stays straight until glue has set. Both spars can be installed at once if desired, just be sure to protect bottom core with wax paper also.