Blue Angel
Pattern Plane Short Kit & Full Kit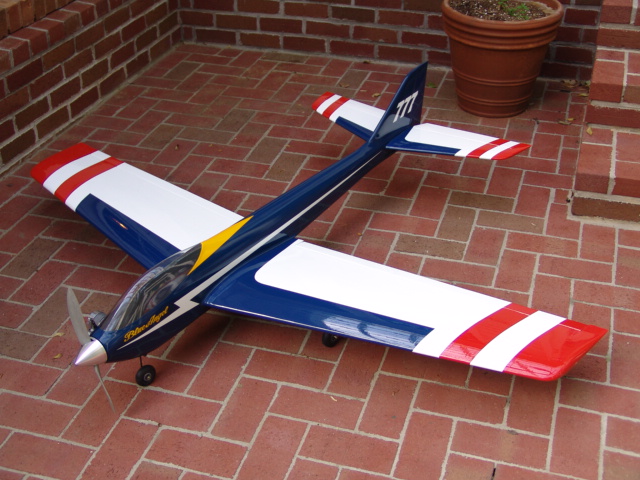 Photo by Mike Dailey
64" wing span, 55" long
.61 2C engine
This is the built up wood fuse version of the Blue Angel.
The Blue Angel is available with either a built up wing and stab, or foam wing and stab.
The short kit is very complete, as the list below shows, and a wood pack that contain the rest of the wood to finish kit is available.
Canopy is included with kit.
Plans can be download here, then you can have them printed locally.
Included parts list below.
No hardware is included in kit.
| | | |
| --- | --- | --- |
| | Blue Angel short kit fuse only, no wings | $170.00 |
| | | |
| | Blue Angel short kit with Wood wing and stab | $215.00 |
| | Blue Angel short kit with Foam wing and stab | $240.00 |
| | | |
| | Blue Angel Full Wood kit with Wood wing and stab (inlcudes all wood to finish kit, no hardware) | $345.00 |
| | Blue Angel Full Wood kit with Foam wing and stab (inlcudes all wood to finish kit, no hardware) | $370.00 |
| | | |
| | | |
| | Blue Angel Foam Wing cores | $45.00 |
| | Blue Angel Foam Stab cores | $25.00 |
| | Blue Angel Clear Canopy | $15.00 |
| | | |
| | Shipping Price Calculated at checkout. | |
Blue Angel Parts
Included
Included
Not
Not incliuded in
Fuse
In Short Kit
In Wood Pack
Included
foam wing version
2
3/16" B
Fuse Sides
x
1
R1
1/8" PLY
Nose Ring
x
1
R2
1/8" PLY
Former
x
1
R3
1/8" Ply
Former
x
1
R4
1/4" B
Former
x
1
R5
1/8" LitePly
Former
x
1
R6
1/8" LitePly
Former
x
1
R7
1/8" LitePly
Former
x
1
R8
1/8" LitePly
Former
X
1
R9
1/8" LitePly
Former
x
2
R10
3/8" + 1/4" B Laminated
Wing Fairing
x
1
R11
1/4" PLY
Former
x
2
R12
1/16" PLY
Fuse Doulber
x
1
R13
4 @ 3/8 laminated
Cockpit back
x
1
R14
3/8" x2">.75" x24" B
rear top
x
2
R15
3/8" x 2"> 1.25" x 31.5" B
rear side top
x
2
R16
1/4" x 1" x24" B
rear side bottom
x
1
R17
3/16" x2.75">1"x 20.25 B
rear bottom
x
2
RF1
3/8" B
Fin Filler
x
1
RF2
2 x 3/8" laminated
Lower Aft Fuse
x
1
RF3
3/8" B
Lower Dorsal
x
2
RF4
3/4" B (2 @ 3/8" Laminated)
Front Lower sides (3 parts per side)
x
1

RF5


1.75" 4@3/8"+1@1/4" laminated
Cowl Bottom

x
1
RF6, RF7
6@ 3/8" + 2@ 1/4" laminated
Fuse Top left & right
x
1
RF8
1/2" B (2 @ 1/4" Laminated)
Fuse top center
x
1
RF9
1/2" B (2 @ 1/4" Laminated)
Fuse top center
x
1
MT1
1/2" HW
Motor Mount
x
1
MT2
1/2" HW
Motor Mount
x
Fin
1
SL1
3/8" B (2 pieces)
Fin
x
0
SL2
Part of SL1
Fin
1
SL3
3/8" B
Fin TE
x
1
SL4
3/8" B
Fin
1
SL5
3/8" B
Fin Top
x
1
SL/R1
3/8" B
Rudder
x
1
SL/R2
3.8"x1.5"x9" balsa tapered
Rudder (from aileron strip)
x
Wing
2
F1 & F2
3/32" B
Wing Rib - combined
x
x
2
F3-F15
3/32" B
Wing Ribs
x
x
2
F16
4 x 3/8" laminated each
Wing Tip
x
1
F17
1/8" PLY
Former
x
1
F18
1/8" LitePLY
Former
x
F19, 20
3/8" B
Wing Bottom front & rear
From scrap 3/8" Balsa
F21
3/16" x 4" x 18" Balsa
Wing Bottom
x
2
F22
1/4" x 3/4" x 36" Balsa
LE
x
2
F23
1/4" x 1/4" x 36" Balsa
TE
x
2
F24
3/8" x 1.5" x 36" Tapered
Aileron
x
4
F25
3/8" x 3/16" x36"
Spars
x
x
4
F25
3/8" x 3/16" x 12"
Spar doublers
x
x
2
F26
LG Brace
x
x
2
F27
LG Brace
x
x
4
F28
LG mounts
x
x
12
1/16" x 4" x 36" Balsa
Sheeting
x
2
1/4" x 4.5" Dowels
Wing Mount
x
FV1
x
x
FV2
x
x
FV3
x
x
FV4
x
x
FV5
x
x
Stab
2
HL1-HL7
3/32" B
Stab Ribs
x
x
2
HL8
2x3/8" laminated each
Stab Tips
x
3
1/16" x 4" x 36" Balsa
Sheeting
x
2
HL11
1/8" x 3/8" x 14" B
Sub LE
x
x
2
HL9
3/16" x 3/8" x 14" B
LE
x
2
HL10
3/16" x 3/8" x 13" B
TE
x
2
HL11
1/16" PLY
Brace
x
1
HL12
1/2" B (2 x 1/4" Laminated)
Brace
x
2
HL13
1/16" x 3/8" x 5" PLY
Spar
x
2
HL/R1
3/8" Balsa
Elevator LE
x
2
HL/R2
3/8" x 1.5" x 13" tapered
Elevator TE
x
08/21/2021