Cobra Biplane
Short Kit
by Dan Santich
From Model Airplane News plans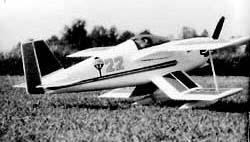 Original Biplane built by Dave Forbes in 1975
Top Wing Span = 76"
Bottom Wing Span = 61"
Engine = Quadra 35 or larger
The fuse short kit has all the cut parts to build the fuse. It does not include stab/elevators or fin/rudder, so you can pick your choice of foam or wood wings.
Foam set has both wings, stab and fin included. All foam is cut so the control surfaces are cut out after they are sheeted. You will need to sand angles to match dihedral braces.
Foam Fin and Stab are cut to an airfoil shape, instead of the flat balsa that is sanded to shape on the plans.
The short kit with wood wings includes the fuse, the five 1/4" PLY shaped braces, and the wing tips, ribs, etc. No Stab or Fin
The wood wing only short kits include the 1/4" PLY shaped braces, 1 for the top wing, and the 4 for the bottom wing
If you have questions on the different versions of the Cobra, since it is hard to explain them all, go to the contact page and give us a call, or send an email.
Great page with pictures of full scale and RC Cobra
http://www.all3com.com/Hobbies/index.htm
PLANS ARE NOT INCLUDED.
Plans available from http://www.airagestore.com/plans/rc-planes/giant-scale/cobra.html
JPG of parts included
| | | |
| --- | --- | --- |
| | Cobra Bipe Fuse short kit only, includes the Five 1/4" PLY shaped wing braces (no plans) | $160.00 |
| | | |
| | Cobra Bipe Short Kit with Both built up wood wings, no stab or fin (no plans) | $245.00 |
| | | |
| | Cobra Bipe Built Up Wood Top Wing short kit only with 1/4" ply spar (no plans) | $50.00 |
| | | |
| | Cobra Bipe Built Up Wood Bottom Wing short kit only with Four 1/4" ply spars (no plans) | $85.00 |
| | | |
| | Cobra Bipe foam wings (top & bottom) , stab and fin SET (oversized) | $110.00 |
| | | |
| | Cobra Bipe Foam BOTTOM wing only | $35.00 |
| | Cobra Bipe BOTTOM wing Four 1/4" PLY shaped spar only for use with foam wing | $35.00 |
| | | |
| | Cobra Bipe Foam TOP wing only | $37.00 |
| | Cobra Bipe TOP wing 1/4" PLY shaped spar only for use with foam wing | $15.00 |
| | | |
| | Cobra Bipe Airfoil Shaped stab /elevators only | $22.00 |
| | Cobra Bipe Airfoil Shaped vertical fin / rudder only | $15.00 |
| | Shipping will be calculated at checkout | |