Curare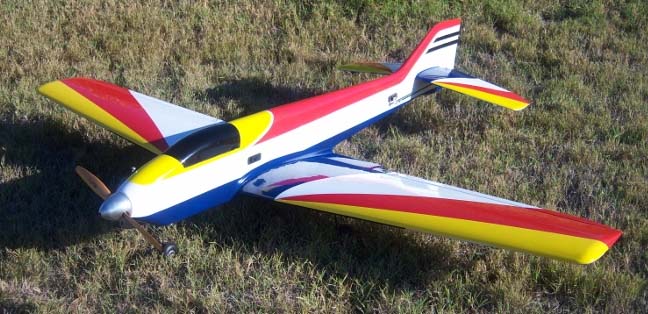 Wingspan 64" , Length 56-3/4"
.61 2C engine
Plane is SPA Legal
The Curare is one of the most sought after planes in 1970's. This is you chance to fly a legend.
---
A Version 2 of the CURARE has been released! The new version has a light, easy to build sheeted turtle deck (1/16" balsa) , instead of the old version with tri-stock, thick sheets, and lots of carving! There are 3 New formers, modified fuse sides, and modified front doublers to accomplish this. Be aware that the plans do not show this change, but it very obvious how it goes together when you see the changed formers.
To order Version 2, simply click on the "Curare V2 KIT" add to cart button along with the parts you wish to order. There is $0 tied to this, it simply lets us know you want the new version. Order your kit options as usual.
The new version 2 costs the same as the old version, no increase!
DON'T click on it if you want the old version. Both versions are available to suit your building style!
---
The Curare can be purchased with either a foam wing and stab, or with built up wing and stab. A few changes have been made to make wood acquisition easier. The tri stock along the turtle deck is 'square', i.e.: same on both sides, unlike the plans. The beam engine mount has been replaced with a standard firewall/engine mount. Center rib on wood wing is full rib, not as shown on plans tor simplify build. Every other rib on the built up wing has building tabs and all ribs have 1/4" wing jig holes. The fuse has been changed from the butt joint by the tank area, to a 'z-curve joint' above the wing. This is for strength purposes, since the engine beams are no longer there.
Included parts list can be downloaded here. Wing fillets are included, and wing & stab tips are included.
Canopy is INCLUDED on all Curare kits!!
Tapered stock for Flaps is included on Complete wood kit, so you can build with or without flaps.
The wood needed to complete the plane is included in the complete kit, in case you don't wish to purchase it separately. A list of included wood is below. Plans show retracts, but no landing gear parts are included so you can do either fixed gear or retracts, your choice. No hardware is included.
Click here for PDF of parts included so you can see what is in the short kit.
PDF file of Plans will be emailed to buyer so they can be printed out locally.
| | | |
| --- | --- | --- |
| | Curare V2 Kit ('ADD' this if you want the Version 2 sheeted turtle deck, instead of the original carved turtle deck) | $0.00 |
| | | |
| | Curare Short Kit Fuse and Canopy only (cut wood parts, no wing ribs or foam wing) | $120.00 |
| | Curare Short Kit, Canopy, Wood Wing & Stab Combo | $150.00 |
| | Curare Short Kit, Canopy, Foam Wing & Stab Combo | $170.00 |
| | | |
| | Full wood Curare kit includes short kit, foam wings, canopy, and wood pack (no hardware) | $240.00 |
| | Full Wood Curare kit includes short kit, wood wings, canopy and wood pack (no hardware) | $220.00 |
| | | |
| | Curare Foam Wing | $35.00 |
| | Curare Foam Stab | $20.00 |
| | Curare Foam Wing & Stab | $52.50 |
| | Curare Built Up Wood Wing & Stab Rib Kit only (no plans) | $30.00 |
| | | |
| | Curare clear canopy (separately, not with kit) (comes with short kit) | $15.00 |
| | Shipping will be calculated during checkout | |
Parts List:
Wood Pack is slightly different between wood wing and foam wing versions. Spars are not included in foam wing vrsion.
| | | | |
| --- | --- | --- | --- |
| Part number from plans | In Short kit | Sheet & Sticks Pack | total length |
| | | | |
| STAB | | | |
| S1 | | (2) 1/4" x 3/8" x 13" | 1 - 36" |
| S2 | | (2) 1/8" x 1/4" x 13" | 1 - 36" |
| S3 | | (2) 1/4" x 1/4" x 13" | 1 - 36" |
| S4 | Wood wing & stab only | | |
| S5 | Wood wing & stab only | | |
| S6 | Wood wing & stab only | | |
| S7 | Wood wing & stab only | | |
| S8 | Wood wing & stab only | | |
| S9 | Wood wing & stab only | | |
| S10 | Wood wing & stab only | | |
| S11 | Wood wing & stab only | | |
| S12 | N | (2) 1/8" x 3/16" x 8" | 1 - 18" |
| S13 | Y | | |
| S14 | Y | | |
| S15 | Y | | |
| S16 | | from scrap | |
| SPL | | (2) 1/16" x 4" x 36" | 2 - 36" |
| Elevators | Y - 3/8"x2"x12"(2)tapered | | |
| | | | |
| WING | | | |
| W1 - W2 (combined) | Wood wing & stab only | | |
| W3 | Wood wing & stab only | | |
| W4 | Wood wing & stab only | | |
| W5 | Wood wing & stab only | | |
| W6 | Wood wing & stab only | | |
| W7 | Wood wing & stab only | | |
| W8 | Wood wing & stab only | | |
| W9 | Wood wing & stab only | | |
| W10 | Wood wing & stab only | | |
| W11 | Wood wing & stab only | | |
| W12 | Wood wing & stab only | | |
| W13 | Wood wing & stab only | | |
| W14 | Wood wing & stab only | | |
| W15 | | NO | |
| W16 | | NO | |
| W17 | | NO | |
| W18 | | NO | |
| W19 | | (8) 1/16" x 2" x 3" | Cut from wing sheeting |
| W20 | | NO | |
| W21 | | Balsa Block | |
| WC1 | | Balsa Block | |
| WC2 | | Balsa Block | |
| WC3 | | Balsa Block | |
| WC4 | | Balsa Block | |
| WC5 | | 1/16" PLY Sheet | 5" x 2" |
| Sheeting | | (12) 1/16" x 4" x 36" | |
| Spar | | (4) 1/4" x 3/8" x 36" | |
| LE | | (2) 1/4" x 3/4" x 36" | |
| Sub-LE | | (2) 1/8" x 3/4" x 36" | |
| TE | | (2) 1/4" x 3/8" x 36" | |
| Aileron | | (2) 1/4" x 1" x 36" tapered | |
| Flaps | N | (2) 3/8" x 2" x 6" tapered | 12" |
| FUSE | | | |
| CANOPY | Y | | |
| R1 | R1,R2, R3 combined | | |
| R2 | Y | | |
| R3 | Y | | |
| NBU | | Balsa Block | |
| NB1 | | Balsa Block | |
| NB2 | Y | | |
| NB3 | | Scrap | |
| V1 | Y | | |
| V2 | Y | | |
| V3 | Y | | |
| V4 | Y | | |
| V5 | Y | | |
| V6 | | 1/8" x 1/4" x 5" | part of S2 |
| V7 | Y | | |
| V8 | | 3/8" x 3/4" x 9" | 12" |
| V9 | Y | | |
| V10 | Y | | |
| VPL | | (1) 1/16" x 4" x 36" | |
| F1 | Y | | |
| F2 | Y | | |
| F3 | Y | | |
| F4 | Y | | |
| F5 | Y | | |
| F6 | Y | | |
| F7 | | NO | |
| F8 | | Scrap | |
| F9 | | Scrap | |
| F10 | | NO | |
| F11 | | NO | |
| F12 | | NO | |
| F13 | | Pre Cut | From 3/8" (Not in V2) |
| F14 | | Pre Cut | From 3/16" |
| F15 | Y | | |
| F16 | Y | | |
| EM1 | | NO | |
| EM2 | | NO | |
| Fuse Sides | Y | | |
| Doublers | Y | | |
| top tri-stock | | (2) 3/4" Tri Stock | Not in V2 |
| bottom tri stock | | (1) 3/8" Tri Stock | |
| turtle deck sheeting | N | (2) 1/16" Sheeting | ONLY in V2 |
| no hardware | | | |