Lightning F3A
Short Kit
By Jeff Carder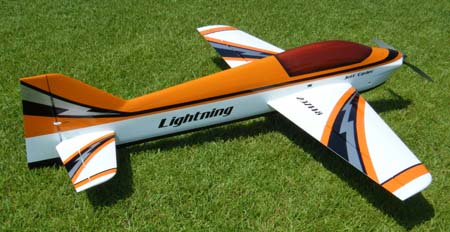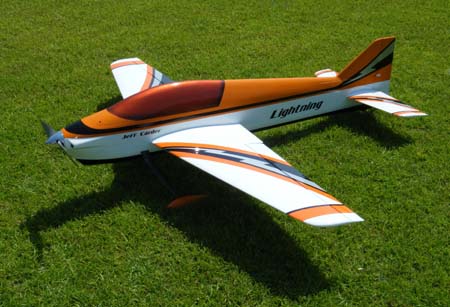 Wing Span = 74.5" Wing Area = 1003 Sq. In.
Length = 77.8" Weight = 10 - 10.5 Lbs.
Motor = 2400 Watt/1100 Kv ( Hacker C50 14XL Equivalent )
Go here to see the build thread:
Fuse sides are 4" wide balsa, so not included. Both versions of F2 are included, so the short kit will be fine for either an Inrunner or Outrunner motor. If you are using an Inrunner motor, you will have to trim the front of the fuse doublers slightly.
Foam wings and stabs have the wing tube cut out included in price. Wing and Stab tubes are not included.
The foam wings and stabs can also be ordered without wing tube holes.
To obtain plans, PM Jeff Carder via the build thread above. You can then have them printed locally.
PDF of all included parts in fuse kit here
---
We have built up wood wings and stabs for the lightning, designed by Dave Snow. The wing and stab short kits contain 2 sets of wing and stab jigs, one for the top and one for the bottom during construction, guaranteeing a perfect wing and stab.
Here is the build thread for one of Dave Snow's wood wings:
http://www.rcuniverse.com/forum/m_10841584/tm.htm
Printed plans are not included. PDF of plans will be emailed when order is sent.
PDF of parts included parts for wood wing and stab here, including jigs
| | | |
| --- | --- | --- |
| | Call or Email for info and shipping prices | |
| | Lightning Fuse Short Kit (No wing and stab) | $140.00 |
| | Lightning Fuse short kit & Foam Wing/Stab Combo (with holes) | $235.00 |
| | Lightning Fuse & Wood built-up Wing & Stab (Dave Snow wings) short kit Combo, includes wing and stab jigs. | $360.00 |
| | | |
| | Lightning Wood Built-up Wing and Stab Short Kit (Dave Snow) with 2 building jigs for wing and stab | $230.00 |
| | Lightning Wood Built-up Wing Short Kit (Dave Snow) including (2) sets building jigs | $185.00 |
| | Lightning Wood Built-up Stab Short Kit (Dave Snow) including (2) sets building jigs | $50.00 |
| | | |
| | Lightning Foam Wing and Stab without tube holes | $70.00 |
| | Lightning Foam Wing and Stab with tube holes | $95.00 |
| | Shipping will be calculated during checkout. | |
08/21/2021