Ziroli P-38
Short Kit
By Nick Ziroli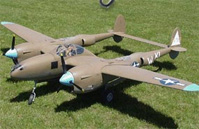 Wingspan 114"
The Ziroli P-38 short kit is offered a few different ways:
1) First is the standard short kit with Pod, Booms, Rudders, Stabs, and wood wings.
2) You can buy just the short kit for the section you need, if you are doing a part fiberglass, part wood kit, or are repairing a damaged plane. That way you can order just what you need.
All short kits come with cut to shape parts only, no sheeting or sticks. These are the parts on sheet#5, plus any needed parts that weren't on that sheet.
Plans are available here .
| | | |
| --- | --- | --- |
| | Ziroli P-38 short kit wood wing version | $275.00 |
| | Separate Sections: | |
| | Ziroli P-38 Center 'POD' short kit only | $60.00 |
| | Ziroli P-38 'Booms' short kit only | $105.00 |
| | Ziroli P-38 'Rudders & Stab' short kit only | $60.00 |
| | Ziroli P-38 'Inner Wing Panels' short kit only | $75.00 |
| | Ziroli P-38 'Outer Wing Panels' short kit only | $50.00 |
| | Ziroli P-38 8 wing hold down 3/4" hardwood parts (not drilled) NOT included in short kit | $25.00 |
| | | |
| | Ziroli P-38 'Fiberglass Booms' wood parts short kit only | $85.00 |
| | Plans are available here . | |
| | Shipping calculated at checkout | |
01/08/2018