The 'Baby' Pattern Kits
These are 65% versions of classic pattern planes. All have foam wings identical to the original, and built up fuses. The original outline is kept as accurate as possible. They will have varying wingspans, approximately 40". They can be powered with either a .10 to .15 glow engine, or the equivalent electric motor. Keep in mind that more power weighs more, and increases wing loading, a bad thing.
We didn't choose to use a 'one size fits all' wing such as the old Ace 'Simple Series' wing, since we wanted the original flight differences in the planes to be retained. We didn't standardize on a wing span for the same reason. Kits don't include landing gear, but location for gear is shown on plans. If you are lucky enough to fly off of pavement, you can add gear.
1/16" balsa is included to use for sheeting, wings don't come sheeted.
If you are interested in a Baby Pattern kit shipped internationally, please email us to get a quote. They can be shipped via First Class International mail, which is quite a bit cheaper than priority.
Baby Curare & Baby Mach One by Duff Little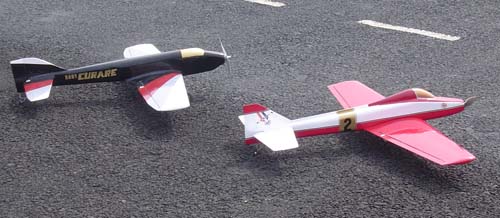 Baby Mach One and Baby Tiger Tail, and Baby Troublemaker by Rob Hobbins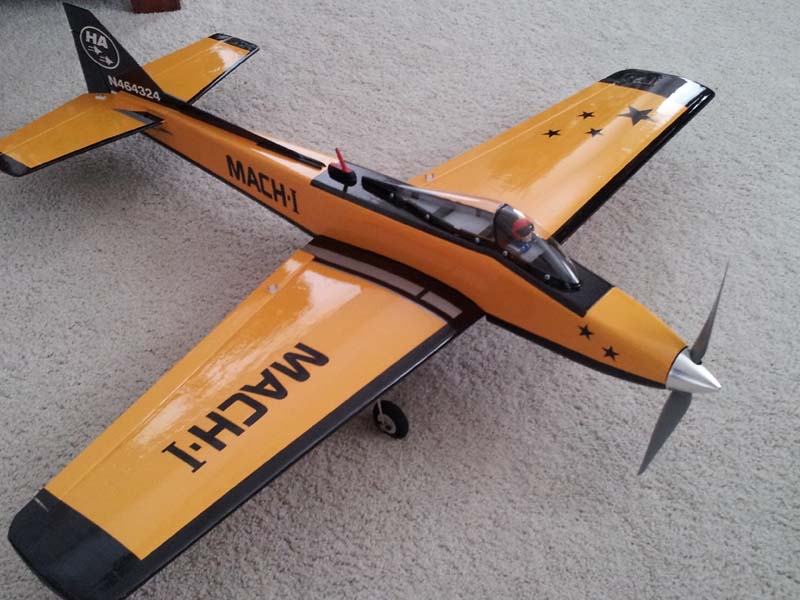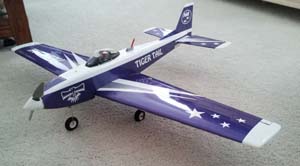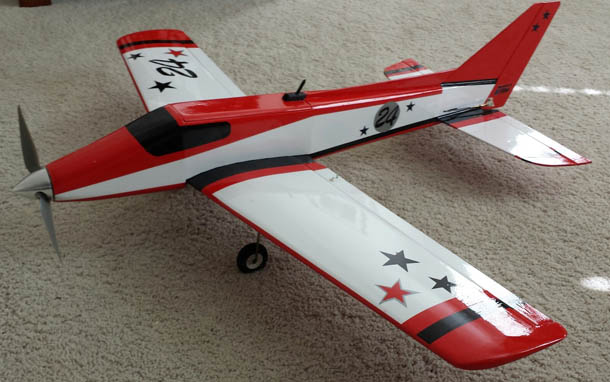 A PDF file of the plans will be emailed when kit is shipped. The fuse has slots, and the formers have keys to fit, so the plans are only needed for reference. If you want printed plans, you can take the PDF to a copy center and get them printed.
All kits contain the wood needed to finish your plane. You will need to supply the following:
* Engine or motor of choice, with mounting and battery/fuel tank, and spinner
* Control rods of choice, with clevises
* Hinges, radio and covering
* No hardware included.
Wing kits are now available for the Baby Pattern planes. The wing kit includes foam wing, LE, TE, ailerons, wing tips, dowel, 1/16" sheeting, & Aileron horns. All the wing parts that are in the full kit. Since all the wing kits are the same price, they are not listed separately. Just send an email after the order to tell which wing kit you need.
Baby Banshee, and Baby Curare are without canopies until further notice. We are going to remedy that as soon as we can. Click here for a PDF of a built up canopy of the Banshee you can use.
Click here for pictures of the Baby Trouble Maker in the bones.
---
| | | |
| --- | --- | --- |
| | Shipping will be calculated at checkout. | |
| | Baby Trouble Maker Kit (38" WS) | $105.00 |
| | Baby Banshee Kit (40.5" WS) | $105.00 |
| | Baby Nutcracker Kit (40.5" WS) with Canopy | $109.00 |
| | Baby Eyeball Kit with Canopy | $109.00 |
| | Baby Tiger Tail Kit with Canopy | $109.00 |
| | Baby Phoenix Kit (42" WS) with Canopy | $109.00 |
| | Baby Curare Kit (42" WS) | $105.00 |
| | Baby Mach One Kit (40.25" WS) with canopy | $109.00 |
| | | |
| | Baby Foam wing only (email after order to tell which wing) | $35.00 |
| | Replacement Baby Wing Full Kit (email after order to tell which wing kit) | $70.00 |