Adding finish balsa wood packs for as many short kits as possible that do not already have full kits available. These will include all the balsa sheeting and sticks to finish the kit, saving you having to find balsa from another s
ource. No hardware is included
Added so far:
Ugly Stick 60
Tiporare 60
Tiporare 120

---
International Shipping:
P
lease email us for a quote on international orders.

Sorry, due to the recent changing in shipping rules, the shopping cart can no longer calculate international shipping properly.

---
Please note that all kits and wings are cut to order. Orders are normally sent out within 3 to 4 weeks weeks from the day the order was placed, but that time can be shorter or longer, depending on how busy we are, up to 5 weeks sometimes. Items are cut and shipped as close as possible to the order they are received. Your patience is appreciated. We are one of the few doing this kind of work, so we are busy. Quality will not be compromised for the sake of expediency.
---
Dimensional shipping:
Dimensional Shipping is now applied for ALL items shipped in the US. We have no control over this, since all the shipping companied are using dimension shipping (priced on box size, instead of weight) for all packages.
You will be contacted upon us receiveing your order, if your order has multiple items, and the shipping calculated will not cover the shipping if a larger box size needed. This can often happen when multiple wings ordered together, but not always.
You will have the choice of us sending an invoice for the extra shipping, or cancelling part of the order.
---
As off now, most of our kits are being modified to not use any 6"wide balsa. It is getting to the point that 1 piece 6" wide balsa is almost unavailable, and the two glued together pieces of 3" wide wood varies in weight and grain greatly on most sheets, which causes building issues. There may be more piece fitting on the builder's part, but we have more control of the wood's weight and grain by using multiple 4" pieces instead of mismatched 6" pieces.
If using 6" wide wood works out as unavoidable, which may be the case in some larger planes, the kit will still use 6" wood. Also be aware that due to the current balsa shortage, wood supplied in kits may be slightly heavier than usual. Under ~7 lb wood pretty much does not exist at this point.
---
Warranty:

Eureka Aircraft guarantees this kit to be free from defects in both material and workmanship at date of purchase. The extent of this
warranty is replacement of defective parts only. This warranty does not cover any component damaged by use or modified by user. In that
Eureka Airctaft has no control over assembly and finishing of this kit, Eureka Aircraft neither assumes or accepts liability for any damage
resulting in use of the finished product. By using the user-assembled product, the user accepts all resulting liability.

All refunds will be minus PayPal / Credit Card fees, since these are not refunded to EAC.

This includes foam wing cores, if they are cut to the wrong size, they will be replaced upon receipt of defective wings. Returns of cores or kits for other reasons will have a 20% restocking change, payment will be made upon receiving returned cores, and original shipping will not be refunded.


---
Check out our 'Baby' Pattern Kits!
Choose between The Troublemaker, Banshee, Nutcracker, Mach One, Curare, Eyeball, Tiger Tail and Phoenix. Great flying pattern aircraft for small areas, for glow or electric power.
Baby kits can be shipped using 'First Class International' which saves a lot on shipping. Email for a international shipping quote on baby kits. Click here for more info
---
Wing tube hole, spar slots, and servo wire holes now can be added in all foam wings.

---
When you order a kit and need the RCM plans,a full size PDF of the plans will be emailed to you, so you can get it printed locally. We have no access to local printing.
If plans are still available from the original source (magazines, designers, etc), we will not / can not sell them. The link to where you can purchase the plans is on the page for each kit.
If they are no longer available, will will email a full size PDF of the plans for local printinge.
---
Check out the 'new old stock' stuff on the Accessories page!
---
We get phone calls and emails wondering if we still sell all the kits and wings on this site.
WE PRESENTLY SELL EVERYTHING LISTED ON THIS SITE!
We know a lot of companies are abandoning the RC community, but still leave the web sites up till the host finally takes them down for non-payment. We are not going anywhere, we are here to stay, in fact we are growing, thanks to a lot of loyal and happy customers.
---
Eureka Aircraft is the largest supplier of foam wings in the US. We have a selection of over 600 wings to choose from, from the past 40+ years. We will be always adding to the list of new wings available. All wings are CNC cut, for the highest possible quality.
If you don't see the wing you need, contact us and we can get the foam wing cut for you.
This includes custom wing cutting
If you don't see the foam wing you are looking for in the alphabetical list, contact us, since the list is not fully updated at this time.
IMPORTANT!


Recent changes in shipping prices and policies by ALL shipping companies are having a major impact on the RC industry, mostly on anything involving Foam WIngs.
Since they are all now charging by size INSTEAD OF weight, called dimensional weight, every foam wing for about .40 size planes on up goes into the oversized shipping price. That means a 3 pound wing package is priced as if it is a 20 pound box.
We have worked out a discount with FedEx Home Delivery, hopefully it will help with the shipping costs.

---
Click here to order Ryan Aircraft foam wings.
---
If you need a Foam Wing for Mark Rittenger's Pharaoh, just order the WT-2 from the generic wing list.
---
We accept the following payment options:

Click on 'Add To Cart' buttons to order.
---
Jeff Carder's LIGHTNING F3A pattern plane Short Kit is here!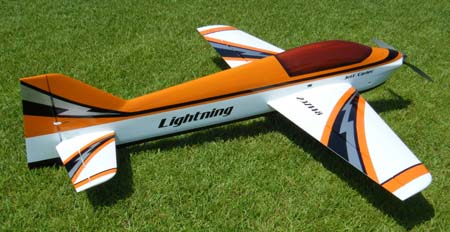 ---
Hot New Items!

Cloud Dancer 120 (86" - 98"ws)
---
Flying Models plans are now available again!!
Go to: www.flying-models.com to order!
A very scale version the 'Oracle' sponsored plane flown by Sean Tucker.
If you are tired of Big Ultimates dressed up to imitate the Challenger II, This is for you!
85.75" Top Wing
80.75" Bottom Wing
85.25" fuse length
Engine 4.4 Cu. Inch and up
Wing Area 2475 Sq. Inch
---
All of the rights to J&J , Ravlin & Pac Models Kits are owned by EAC!
---
You have reached an ARF free zone!!

Are you tired of seeing the US trade deficit constantly getting bigger, as American workers loose their jobs to outsourcing? We sure are. We have been asked for ARFs (or NPA's, No Pride Aircraft) of our planes, and we will not import low quality ARFs. Who knows how much lead is in the paint or the fiberglass they use? Who knows what is in the glue they use on only HALF of the necessary glue joints?
We are proud to sell short kits made in the USA to a worldwide user base. Our support calls are handled right here in the Ozarks.
We are an American company producing high quality American made products, lowering the trade deficit one kit at a time!